According to the latest survey conducted cyclically by CBM Indicator, Scotch whiskies are the most recognizable by Polish consumers. The most recognizable brand in the latest survey is Johnnie Walker, who maintained his leading position in relation to the previous survey. Johnnie Walker is spontaneously indicated by 47% of respondents. In the assisted recall, however, the result reaches 68%.
Rynki Alkoholowe 9/2019
Whisky sales in small format stores were dominated by four main brands: Ballantine's (Pernod Ricard), Jack Daniel's (Brown-Forman), Johnnie Walker (Diageo) and Grant's (CEDC), which accounted for almost 70% of category turnover in 2018. In the discussed period, customers of small-format stores most often used Ballantine's Finest 700 ml and Jack Daniel's 700 ml whisky.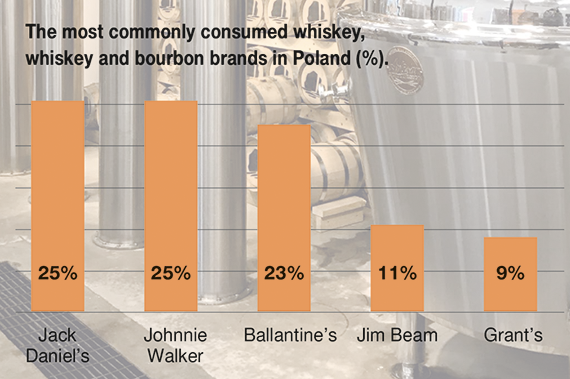 Rynki Alkoholowe 9/2019
Lighter and flavoured beer variants have been a hit in small-format shops in recent years. This is clearly visible in the offer range as such products take up almost 1/3 of the shelf space and in beer fridges. In June 2019, customers looking for beers with reduced alcohol content or flavoured additives had a choice of over 35 variants, most of which were Radlers, i.e. beer blends with other beverages.
The survey conducted by Instytut Badan Rynkowych i Społecznych (IBRiS) shows that vodka (according to 88% of Poles) and whisky (according to the 82% of the total population) are unquestionably perceived as alcohol. Whereas wine (53%), beer (46%), flavoured beer (35%) and cider (29%). wine (53%), beer (46%), flavoured (35%) and cider (29%) are recognised as alcohol by a considerably smaller percentage of Poles. Poles are also not very aware of the amount of alcohol in a given unit of volume. As many as 63% of respondents claim that there is more pure ethyl alcohol in 50 ml of a glass of vodka than in a half-litre bottle of beer (13%), when in reality in both cases there is a similar amount.
Rynki Alkoholowe 8/2019
As part of the annual nationwide survey of consumer and shopping habits on the alcohol market in Poland, consumers of the latest round of the CBM Indicator survey were asked about the place of purchase of ciders and ready-to-drink low-alcohol drinks. According to their declarations, when consumers decide to buy cider, they most often choose a Biedronka discount store. It is in the Biedronka chain that every fourth person buys this alcoholic beverage. The second place among cider lovers are off-licences stores and the Tesco supermarket chain, which received the same percentage of indications – 23%. Almost every fifth consumer goes to a local grocery or to supermarkets, such as Carrefour (17%) or Auchan (16%).
Biedronka also prevails when it comes to the low-alcohol RDTs. Some every fifth person declared buying RTDs in the Biedronka store. Off-licences (17%) are on the second place among people consuming RTDs. Local groceries, which received only 6% of indications, are becoming less popular.
Rynki Alkoholowe 8/2019